King spoke about living as a legacy to parents Dr. Martin Luther King Jr. and Coretta Scott King
Dr. Bernice King is a renowned speaker, accomplished minister and servant leader leaving a legacy in her own right.
But at an Atlanta event hosted by U.S. Bank and its subsidiary Elavon a week before the federal holiday honouring her father, King spoke openly about how it has at times been difficult to reconcile her past, present and future.
As a young adult, she avoided watching footage of her father and was instead determined to develop her own style. She admittedly has had difficulty responding when asked what differentiates her from her parents. Understandably, that can be a complicated question for the chief executive of nonprofit that stands as a living memorial to them.
"My mother would tell me that I do not have to be my father to be my best self," she said. "[Still], when you are born into a family that has made such an impact, you feel an obligation to keep that alive."
And that is what King has done. The social media savvy 56-year-old is an interpreter bringing the teachings of her parents into the digital age – advocating for social justice to 272K followers on Twitter and hosting thought provoking conversations to 100K followers on Facebook Live, for example.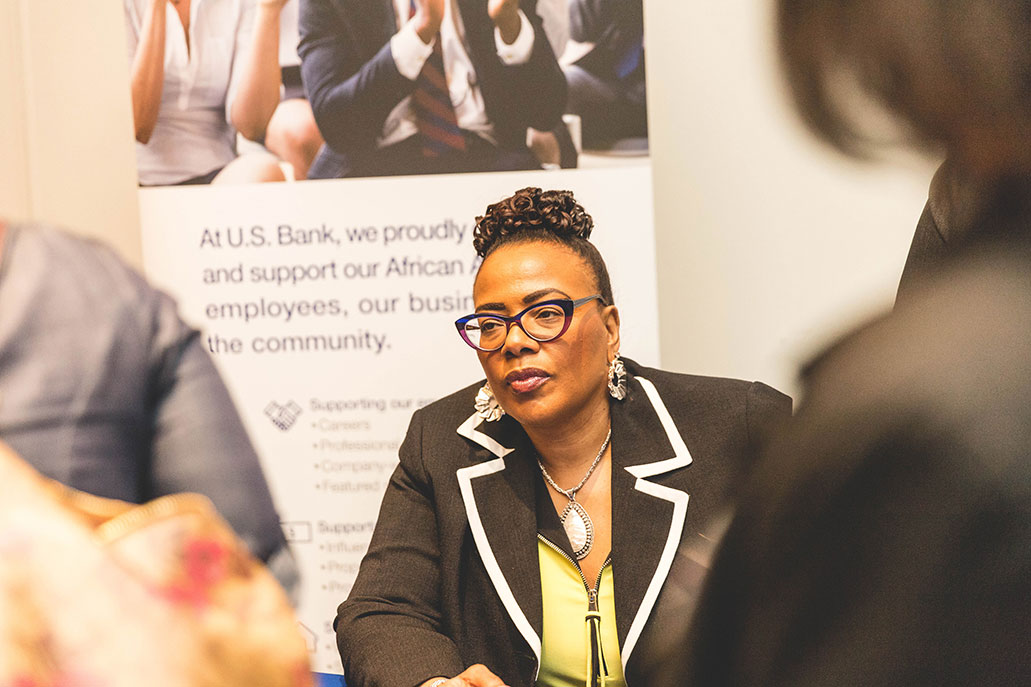 In addition to iconic settings including The White House and The Lincoln Memorial, King also expands the reach of the nonprofit by speaking at universities and corporations.
The U.S. Bank and Elavon event, for example, helped launch the newest chapter of the African American business resource group at the company. The event was organized and moderated by Chapter President and Elavon Vice President of Education & Engagement Terra Wallace.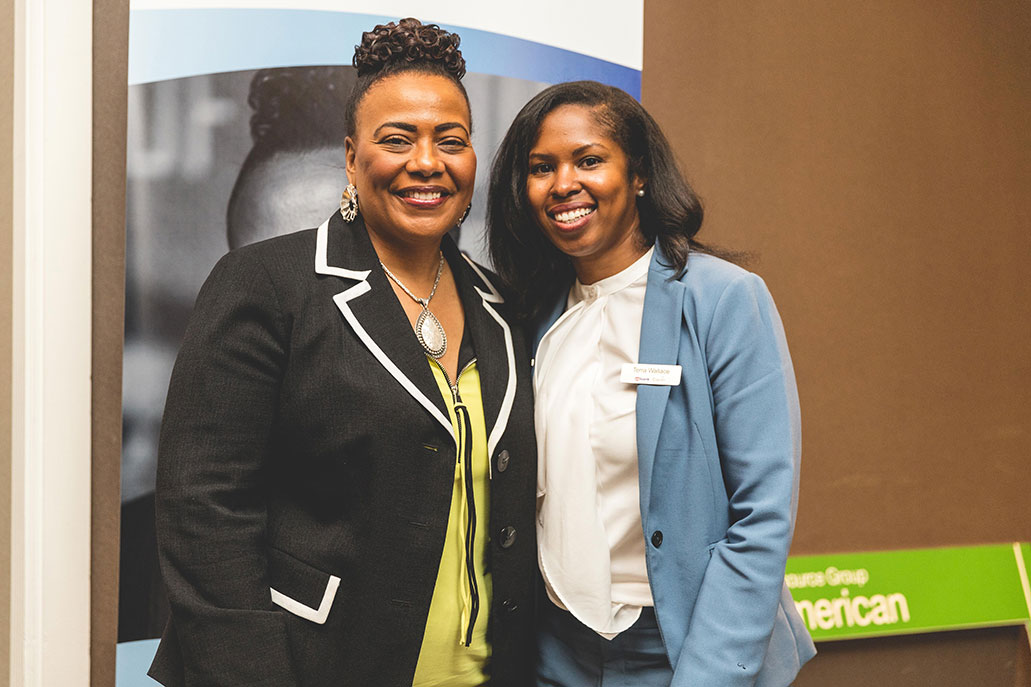 "It was an absolute honour," said Wallace, of sharing the stage with King. "Knowing the sacrifices that her father made for some of the freedoms that we enjoy today gave me an overwhelming sense of gratitude in that moment. And the way that she was so relaxed, humorous and transparent, we felt a pretty immediate connection."
Along with Wallace, the Atlanta chapter is led by Sam Thurman, Jamelle Taggert, Terra Wallace, Tamisha Cosby, Tomika Hargett, Montressa De La Cruz-Wesson and Kimaada Blair (as pictured below left to right).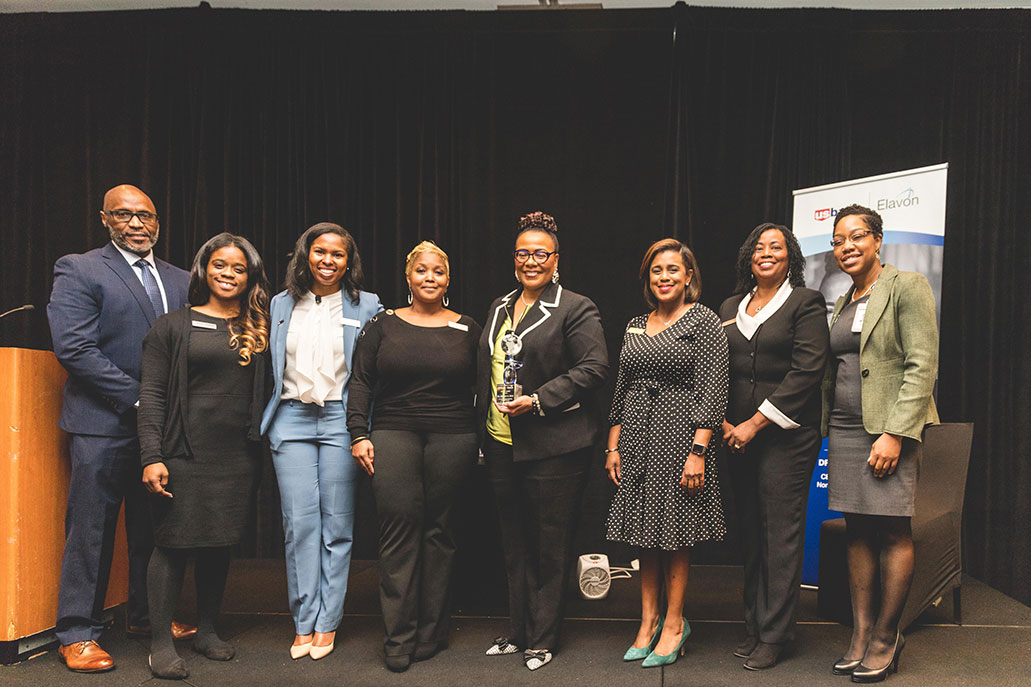 Of her hopes for the business resource group chapter, Wallace said, "I want the work we do to be about bringing out the best in people. It may be heritage events like these that unify people across cultures and backgrounds and start meaningful conversations. Other times it may be through programs that help our members tap into their strengths and execute against their goals. It can also be through the impact we make on our communities."
Bringing out the best in people was, of course, a core tenet of her father, said King.
"[My father] believed that there was good in the worst of us and bad in the best of us," she said. "What we need to do is elevate the people who bring out the best in others."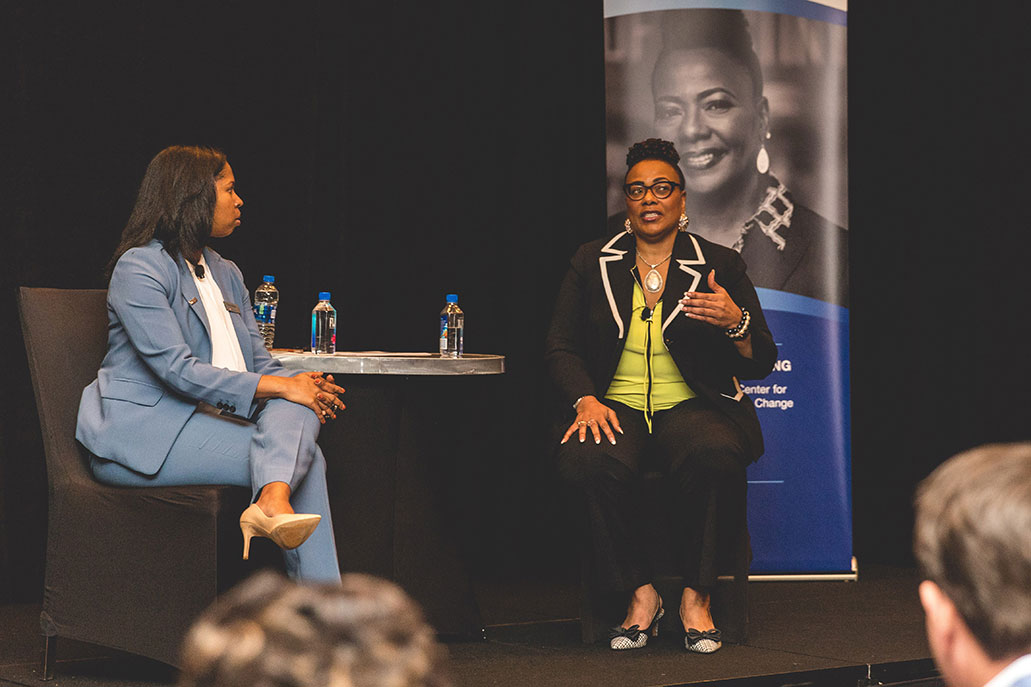 Throughout the fireside chat with Wallace, King reflected and strung lines through her past, present and future.
Of the past, she spoke about the coming into understanding her role as a vessel. "My father was a prophet and the words of a prophet are very important – the things that they seek still have to come to pass. My mother used to say that struggle is a never-ending process and that freedom is earned and won with every generation."
Of the future, she expressed optimism, especially having seen recent teenager-led activism such as March For Our Lives. "This next generation is different. Those under 20 today, they care about wars, they care about causes, and things are going to change because they are absolutely different than us."
Of the present, her comments – to us – were the most urgent.
"Look in the mirror every morning," she said, in closing. "You are the solution to some problem. You are the answer to some question. But you have to decide to get engaged purposefully and intentionally."
Written by Pat Swanson of U.S. Bank.
Notes to editors
About Elavon
Elavon is wholly owned by U.S. Bank (NYSE: USB), the fifth-largest bank in the United States, and provides end-to-end payment processing solutions and services to more than 2 million customers in the United States, Europe, and Canada. As the leading provider for airlines and a top five provider in hospitality, healthcare, retail, and public sector/education, Elavon's innovative payment solutions are designed to solve pain points for businesses from small to the largest global enterprises.

About U.S. Bank
U.S. Bancorp, with approximately 70,000 employees and $587 billion in assets as of March 31, 2022, is the parent company of U.S. Bank National Association. The Minneapolis-based company serves millions of customers locally, nationally and globally through a diversified mix of businesses: Consumer and Business Banking; Payment Services; Corporate & Commercial Banking; and Wealth Management and Investment Services. The company has been recognized for its approach to digital innovation, social responsibility, and customer service, including being named one of the 2022 World's Most Ethical Companies and Fortune's most admired superregional bank. Learn more at usbank.com/about.

*****************************************************************************************************************************

Contact:
Joe Rauch, Communications Manager | Global Head of Communications for Merchant Acquiring | Public Affairs and Communications

E: joseph.rauch@usbank.com